Discussion Starter
·
#1
·
Lake City resumed production of a modified M1909 blank cartridge apparently in 2012 for ceremonial use in rifles loaned by the US Army to recognized veterans organizations, National Cemetery Honor Guards and certain LE honor guards.
The new M1909 looks nothing like the old, actually it resembles a grenade launching cartridge, the only visual difference is the number of crimps closing the mouth of the cartridge. The blank has 6 crimps and the grenade launching cartridge has 5 crimps. An Ohio American Legion honor guard has already suffered 2 injuries and catastrophic failure of 2 rifles when somehow getting their hands on grenade launching cartridges and firing them in M1 rifles equipped with blank firing adaptors. The cartridge case appears identical to the last runs of LC M2 Ball in the 1970's complete with neck annealing and annular crimped primers. All of the of the head stamps I have seen are LC 12. They are packed 20 rounds to a pasteboard carton 31 cartons (620 rounds) to a M2A1 ammo box. They are shipped 2 ammo boxes (1240 rounds) in a wire bound crate from Lake City through the Joint Munitions Command at RIA. Ammunition is shipped only to originations which have caliber .30 rifles loaned by the Army through the donations section of TACOM (Tank and Armaments Command) Warren MI. Nicely reconditioned M1 rifles equipped with blank firing adaptors and minus the gas cylinder lock are shipped through the CMP.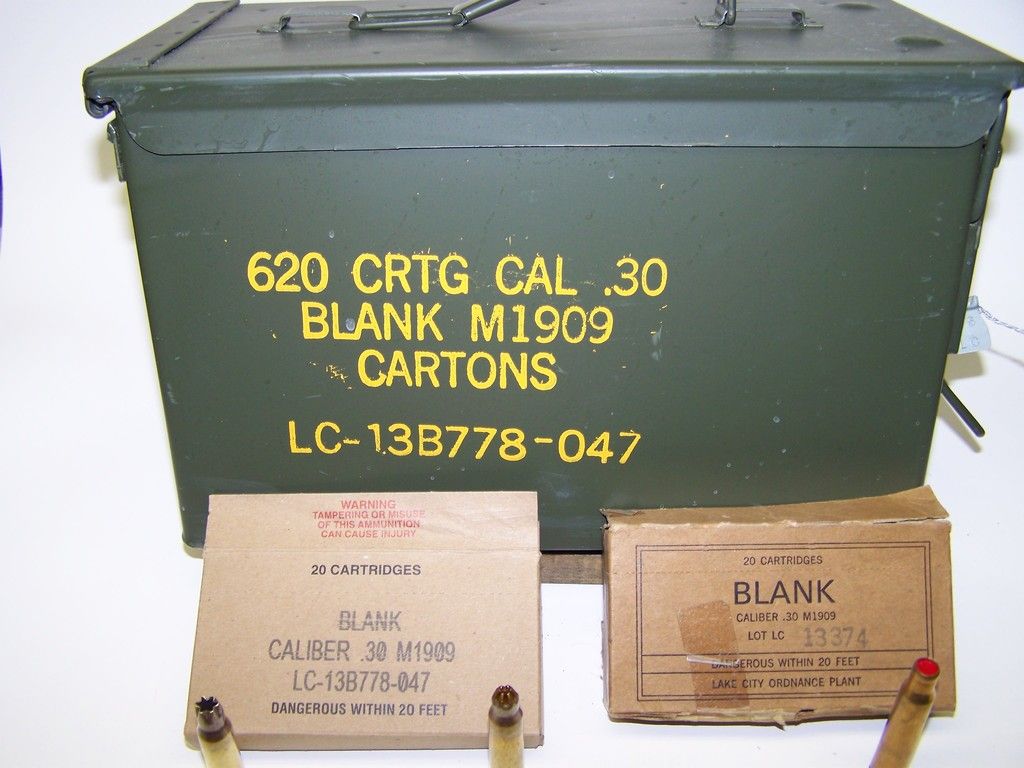 While the head stamps are LC 12 the lot number on the box indicates 2013 loading.
On the left are fired and un fired new style M1909 blanks along with the old style M1909 on the right. The new style blanks contains about 11.9 gns of a flake propellant shaped in rectangles, the cartridge is crimped and the 1/6th hole remaining looks like it is sealed with glue as a few flakes of propellant are stuck to the inside of the crimped neck. The M2A1 boxes have a fabric pull tape under one of the cartons to lift the first one out. There is also a folded cardboard filler on the bottom row of cartons to prevent shifting of t the cartons. The wire bound crate and each ammo box is sealed with wire seal marked US over LC.