·
PhD in Over-Engineering
Gentlemen, at last we are closing in on a new run of the WWI receivers for the 1917 Water Cooled and 1919A2 Cavalry Gun builds, which will feature our hand finished, rust bluing. I have orders for about half the receivers being produced, and some of you here are already in, of course. But we will have a few more receivers that are not committed as of yet. The current orders will get priority for finishing up the complete builds, but I expect to have delivery on those caught up in the first quarter of the new year, and be able to finish more at that time. All remaining receivers, without pre order reservation, will be built into finished guns and sold at full retail price. For a 1917, that will be $7500, and for a 19192 that will be $5000.
Note:
That price on the 1919A2 should have been higher, but I will stick with my typo for the forum members until the receivers are all done in December. See next paragraph.
If you wish to get in ahead of time, I am willing to take deposits between Nov and the end of the year for a $500 discount on the 1917 and $250 off on the 1919A2. I may have another extra or two thrown in too, on pre orders with deposits. We will need a $3500 deposit on the 1917, and a $2000 deposit on the A2. I know it's closing in on Christmas, but what better time to reserve a nice new present for yourself?
That means the total will be $7000 for a 1917, or $4750 for a 1919A2 for forum members who put their deposit in by about mid December, and we can negotiate a little leeway if needed.
For those of you with your deposits in currently, a detailed update will be sent out soon. As you all know, this has been a long time in coming and the multiple set backs we have endured are coming to an end.
Also, for those purchasing a 1917 Water Cooled, we will have a tripod option available, and we are working on a different package for the A2s. These will be, obviously, at extra cost. Meanwhile, here are a couple of pics of what the guns will look like. Existing customers from our original run will attest to the quality of these firearms. You will see their like nowhere else.
Note the 1917 here has the customer supplied WWI rear sight, a rare piece. We do not have these, but will include original, 1920s vintage rear sights, as first modified from meters to yards. Or, our beautiful new-made repro sights are available.

And the 1919A2 Cavalry Gun.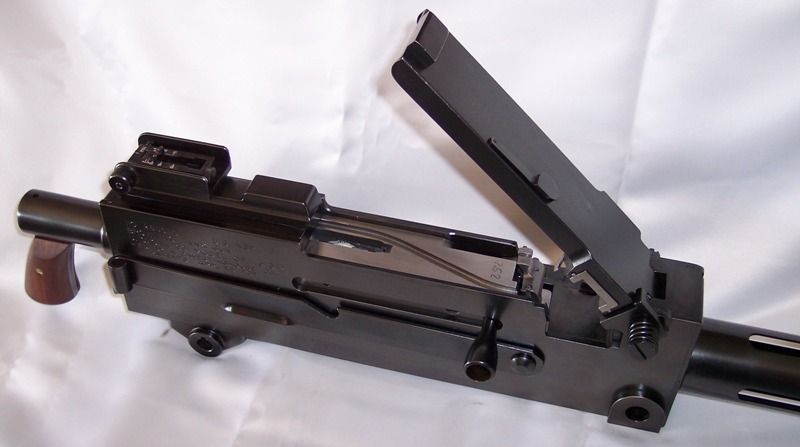 The reinforcing stirrup can be added at extra cost, for any who want that look. The guns are plenty strong without that, but it is correct for post war guns in service. It was not ready when we did the first Cav guns, and the original Tank guns were made without it at first, so that can still be considered correct. The option is available, if desired.